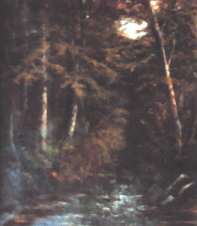 Snyder's favorite subject were the beech trees of the Madison area.
     This site will be dedicated to the biography of William McKendree Snyder, a Madison, IN. artist during the early part of the 20th. century. There will also be some pictures of his art.

     These notes are taken from the book authored by my Dad, Emmett S. Wood, an 89 year old man who dedicated his life to being a florist (35 years) and painting. He found a second career when he retired from the florist shop in the restoration of both pictures and frames. Dad died at the age of 89 on Sept. 19, 1999. It was a peaceful death.

If you wish to correspond further with the author, I will try to help as best I can.

This will not be a commercial site, however, if you wish to correspond with me, please write.



Click on the envelope to send me email
My name is:
Don Wood
404 W. Third St.
Madison, IN. 47250


Don Wood
Created June 30, 1998 and modified on 6/15/03
using Homesite 4 HTML editor
Link to Homesite web site
page designed by Don Wood